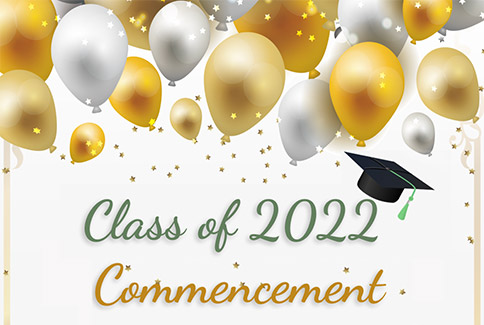 Congratulations Class of 2022!
Our virtual commencement was held on June 23rd. Please read our valedictorian Yihan (Sylvia) Guo's speech.
Valedictorian Speech 2022  
By: Yihan Guo (Sylvia),
Good morning, my dear teachers and schoolmates! It is a great honor for me to deliver a graduation speech on behalf of my classmates. 
How time flies! We all finished high school successfully. I clearly remember that when Mr. Gentles taught us "business etiquette from different countries", he asked, "What should we pay attention to when doing business in China?" Then I told him that he needed to be humble, such as rejecting gifts twice and receiving them for the third time. I also recall Mr. Hayashi's independent novel reading homework, which made me make great progress in writing. Ms. Olana always writes all the steps of math problems seriously, and Ms. DeBartolo patiently explained to me documentaries that I didn't understand.
All the wonderful experiences are still fresh in my mind. In a few months, we will enter university and turn over a new chapter of life, but at this time, Laureate will be a unique memory for us.
I enrolled at Laureate College in my third year of high school. I was worried and excited at first, and I believe that most of my schoolmates felt the same way as I did. I was afraid that I could not understand the courses and would not get good grades. At the same time, I was looking forward to the new experience of taking classes in English. Luckily, I met a group of enthusiastic teachers and lovely classmates who always helped me when I was in trouble. For example, Ms. Zhou always asks me if I have any difficulties with the courses. So my fears melted away with everyone's concern.
Before enrolling at Laureate, I was a student who only received Chinese education, so what I have felt the most was the cultural shock of learning in a Canadian school system. Teachers always give us a lot of autonomy to complete our homework, and there are also many discussions in class, which made us more courageous to express ourselves. As we all know, universities regard leadership and teamwork as two important parts of students' abilities, but some students are naturally shy and afraid to express themselves. Laureate's teaching style is exactly what helps us to improve our confidence and our ability to work with our peers. I also learned the importance of time management, a skill I will always need as I go on to university and a profession later on.
Although I have only spent a year at Laureate, I have developed a deep love for it. We have much to be grateful for. Thank you Laureate for giving us a group of erudite and passionate teachers to impart knowledge, for giving us opportunities to show ourselves in debate, and for giving us a good foundation for university study.
In addition to everything about Laureate, our parents deserve our gratitude. Behind our outstanding achievements, we must have the support of our parents. My parents are willing to hear what I learned today or some anecdotes in class because it helps them understand how I am doing and if I need help. They always encouraged us when we were in trouble and praised us when we did a good job, which gave us a lot of confidence and motivation. Therefore, on behalf of all my classmates, I sincerely express my gratitude to our parents.
Finally, congratulations class of 2022! We should be so proud of ourselves for all our accomplishments and hard work. Hope the class of 2022 keeps finding new adventures where we may fall down, but we will always get right back up. 
Good luck and best wishes.