Private: Boarding Program – Boarding Life
Accommodation  Our dormitories are designed to be comfortable, functional, and for our boarders to feel at home. We have separate wings for male and female boarders, but each dormitory has two beds, desks, dressers, closets, and includes a private bathroom and shower. The common areas are furnished with comfortable chairs and couches and are a popular location for students to socialize during their free time, play games, and unwind. Each wing has shelves, a fridge, and a freezer for our boarders to store any snacks or food. There is a washer and dryer available for students to use with detergent provided. Students also receive laundry bags and have the option of using our laundry service each week where their clothes will be washed, dried, folded, and promptly returned to them. Each week students also benefit from our cleaning services and have their rooms vacuumed and washrooms thoroughly sanitized. Safety and security are an important part of our boarding program, for that reason we have security on duty every evening.
Nutrition/Food service
Our canteen serves three nutritious meals a day. Our menu consists of a mix of cuisines, ranging from western to east Asian. We also have bread, yoghurt, milk, juices, and fruits available at all times for our more active students who might need a snack to keep them going throughout their busy days. There is also a kitchen where boarders can cook under supervision.
Typical Day Menu: 
Breakfast: fried eggs, boiled eggs, variety of breads, muffins, apples, bananas, orange slices, hashbrowns, sausages, cereal.
Lunch: Salad bar, fruit bar, Shepard's pie, roasted potatoes, rice, steamed vegetables, butter tarts. 
Dinner: spaghetti, meat sauce, soup of the day, vegetables, boiled eggs, sandwich meats, cheese, cut up fruit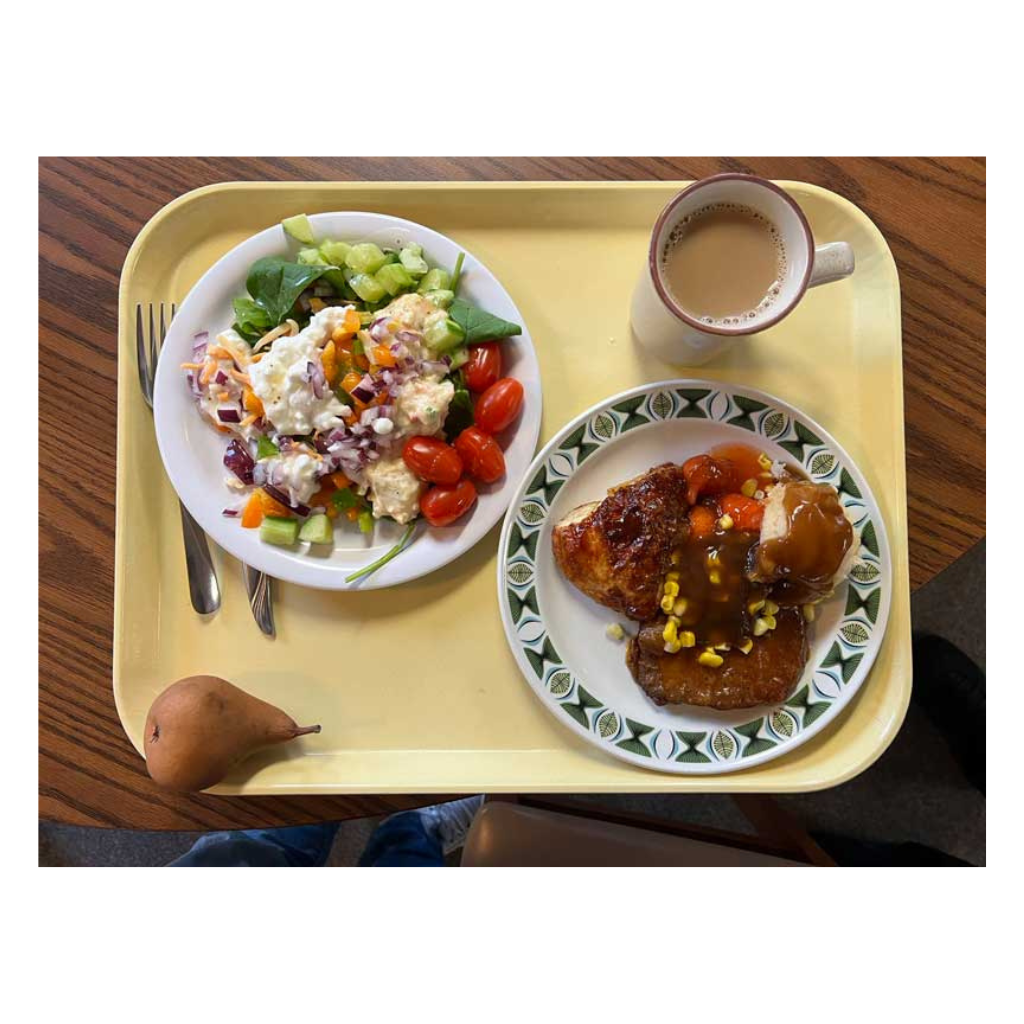 Daily Life
Typical Weekday for Boarders:
A typical weekday for a Laureate boarder is structured with a healthy balance of free time. Boarders are provided with a variety of opportunities to stay active, engaged, and to explore their passions. 
Daily Schedule:
07:30          Wake up
07:35 – 08:20   Breakfast
08:30 – 09:45   Class 1
09:45 – 10:45   Independent Learning (Passion Project/University Preparation/etc.)
10:45 – 12:00   Class 1 Continued
12:00 – 12:45   Lunch
12:45 – 14:00   Class 2
14:00 – 14:05   Break
14:05 – 15:20   Class 2 Continued
15:30 – 16:30   After-School Activity/Club
16:30 – 17:00   Free Time
17:00 – 18:00   Dinner
18:00 – 18:30   Free Time
18:30 – 21:00   Evening Independent Study Period & Tutoring
21:00 – 22:00   Free Time
22:00 – 22:30   Prepare for Bed
22:30         Lights Out


Weekend Activities 
Our weekend activities are varied and designed to keep the students entertained while giving them opportunities to learn, explore their interests, and have fun!
Local Shopping: Sobeys, Shoppers Drug Mart
– Students are a short walk away from the local strip mall where they can buy snacks, food, and any necessities they might need.Occasional Shopping Trips: Walmart, Costco, T & T Supermarket. Nation Fresh Supermarket
– Occasional shopping trips to Walmart, Costco, and T & T Supermarket are organized for boarders to get any snacks and supplies as needed. 
Occasional Shopping Mall Trips: Mapleview Shopping Mall, Niagara Outlet Mall, Toronto Premium Outlet Mall
– Occasional shopping trips are organized for boarders to spend an afternoon shopping at one of the many quality shopping malls nearby. 
Kitchen Cooking Program
– Knowing how to cook healthy meals for oneself is a valuable life skill to learn. Supervised by our program director, our boarders have a chance to learn how to plan, budget, shop, and cook a delicious dinner with their peers. Each boarder will be the coordinator to organize this event by turn. This is an excellent way to learn, bond, and enjoy a delicious meal with friends!
Independent Activities 
For many of our boarders, this is their first time living away from home. Boarders are required to learn how to take care of themselves and develop their independence. With oversight from our houseparent, boarders learn how to keep their living quarters and communal spaces clean, they can do their own laundry, and learn how to cook nutritious meals during our kitchen cooking program. With support from boarding program leadership, many of our boarders will open up bank accounts and get phone plans, which requires them to learn how to pay bills and manage their finances. Laureate boarding provides an invaluable opportunity for students to develop their independence, which will put them a step ahead of many of their peers when it comes to university living and beyond. 
Self Discipline 
Our boarding students follow a structured schedule and learn the importance of self-discipline. With support from our guidance counsellors, students learn to set goals, develop a plan, and execute the steps needed to achieve them. The nightly self-study period is a great opportunity for students to exercise self-discipline and time management. We have a culture that encourages the development of a hard work ethic and self-discipline, but we also understand the importance of balance and having 
Sociability
As a part of our multicultural boarding community, our students are required to live alongside peers from diverse backgrounds. This is a valuable opportunity for our boarders to learn how to socialize and get along with people from various cultures. 
During our regular Town Hall Meetings, our boarders discuss ways in which they would like to improve the boarding program. They develop proposals and present it to the boarding program leadership. This provides our boarders with the opportunity to learn how to organize as a group and act to successfully affect positive change in their community. This is a great way to develop leadership, organization, assertiveness, and rhetoric.