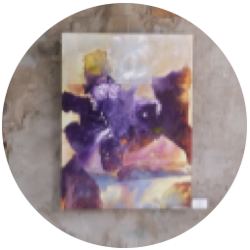 My paintings exist in my head long before a drop of paint touches a canvas. Some begin with composition in mind; others with a textural element while others reside in a palette. It is in the wrestling that a work emerges. The struggle rests within my mind's eye and as the work progresses, references to history, nature, favorite palettes appear. The route is circuitous at times and pauses allow for a detail to materialize. The constants in my work are bold colours and interesting textural elements. They are about energy and inspiring the viewer to see and feel that which rests within.
Surrounded by art and artists and as a student of art history and studio arts, Gordy taught black and white photography and commercial art/design for 10 years. Previously, she worked alongside artists as they engaged with school aged children in the inner city and as a program coordinator for a not for profit arts organization. In recent years, Gordy Ess worked in a gallery and was exposed to such an array of talent. Continuing to take classes in a variety of mediums and learning from a diverse group of artists, she is able to dedicate her time solely on her own artwork. Since 2017, her works of art were seen at exhibitions held in Cambridge, Burlington, Paris, Grimsby, and Toronto.
Her education began by completing her Bachelor of Arts in Art History and English Literature at the University of Toronto followed by receiving her Diploma in Studio Arts and Arts Education from Sheridan College. Gordy Ess also obtained her Bachelor of Education in Artist in the Community Program at Queen's University. She studied under local artists for 4 years.