Guest Artist - Tara Krebs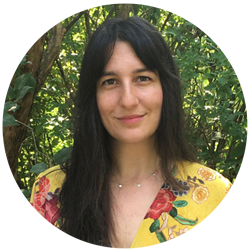 Tara Krebs
Artist, storyteller and educator
Tara Krebs is a Canadian artist, storyteller, and educator whose work addresses themes of nature, identity, magic, and narrative. Her work has been exhibited and collected internationally through a number of exhibitions and private commissions.
Although she works in a variety of media, Tara is most known for her oil and acrylic pop surrealist paintings. As her painting technique is very detailed, it can sometimes take weeks or even months to finish one piece. Tara enjoys creating visuals that are open to interpretation, and challenge the viewer to use their imaginations. She especially loves to make artwork that is interactive with its viewers, which extends to her literary practice as well.
In addition to her fine arts studio practice, Tara is also a writer. In 2018, she authored/illustrated the interactive storybook "You'll Distract the Boys!": A Choose-Your-Own Compendium of Female Existence, which was created for her Master's thesis at OCAD University. "You'll Distract the Boys!" is an illustrated choose-your-path style gamebook that addresses the influence of patriarchy on our discourse around women, and the impossible standards and contradictions of how females are expected to look, speak, and behave.
As all of Tara's creative pursuits have a common thread running through them, elements of her Master's research can be found intertwined in her current painting practice, and daily life.
Tara has lived most of her life in and around the Greater Toronto Area, making art for as long as she can remember. In her early years, she spent her time drawing on any scrap of paper she could find around the house, strengthening her art skills as she grew.
As her creative passion was such an important element to Tara's life, it was inevitable that she would continue her artistic journey into her post-secondary education and beyond.
Tara earned her Bachelor of Fine Arts degree in Drawing & Painting at OCAD University in 2007. She returned to the school many years later to earn her Master's degree, where she received her program's top award.
Over the years, Tara has shared her passion for the arts not only through creating, but by teaching her craft to others. In her early years she started as an art specialist at summer camps, then moved on to teaching at an art school as well as one-on-one tutoring. Tara has extensive experience teaching art to people of all ages, and has helped many students prepare successful portfolios for various post-secondary arts programs.
She has also worked in stop-motion animation as a puppet builder/painter, made props for film and television, and worked with students with disabilities at OCAD University.
Tara is currently splitting her studio time between working on paintings for upcoming shows, and writing/illustrating a graphic novel. She also spends a lot of time exploring nature, making a mess in her kitchen, and doting on her excellent dog.
For more info on Tara's work, please visit her website at tarakrebs.com.
You can also follow her on instagram as @tarakrebsart for a more intimate look at her life and studio practice, including works in progress and announcements for upcoming shows.