Grand Opening Celebration & Open House!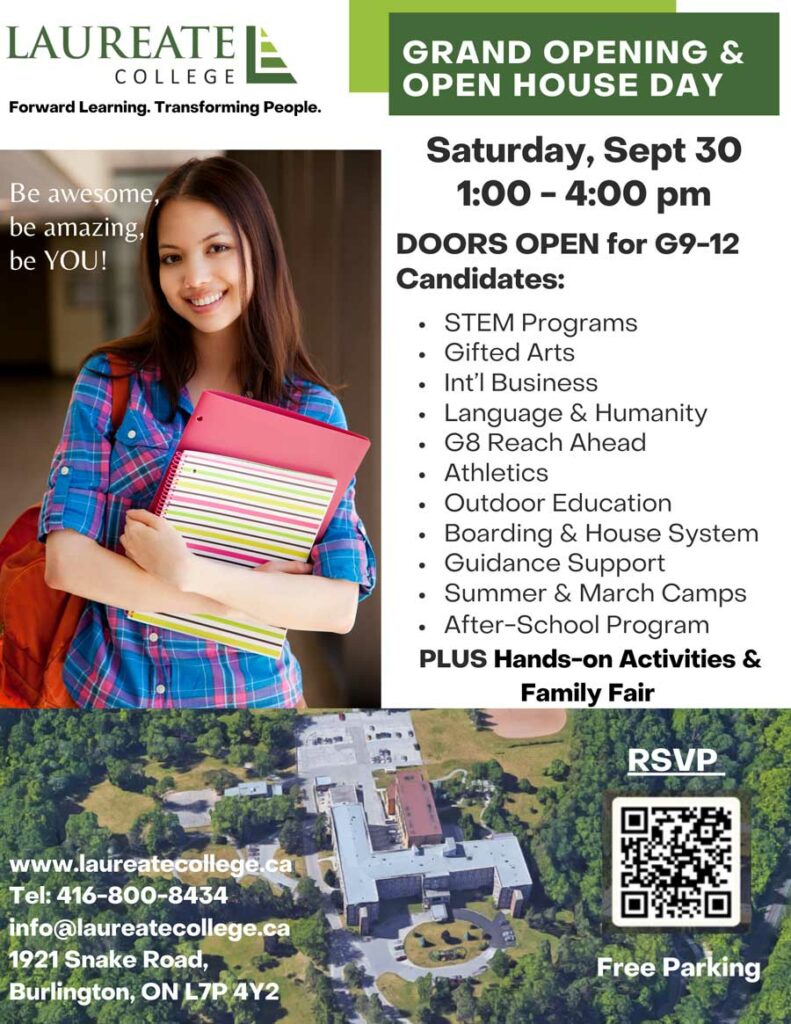 Saturday, September 30th
1:00 to 4:00 pm
Warm welcome to Laureate, your community STEA+M (Science, Technology, Engineering, Arts and Mathematics) school. Our student ambassadors will embark on the Laureate Journey designed for your family in showcasing our forward learning, where every student becomes a proactive architect of their future, empowered with essential skills and a visionary mindset that drives innovation, adapts to change, and shapes a better world. "We don't teach a class, but each unique individual in the class."
Every great journey begins with a single step: Join us on Saturday, September 30! 
It will be a fantastic day of celebration. Please share the news with friends, colleagues, and neighbours to ensure that as many people as possible can be a part of this exciting journey.
DOORS OPEN for G9-12 Candidates: 
STEM Programs
Gifted Arts
International Business
Language & Humanity
G8 Reach Ahead
Athletics
Outdoor Education
Boarding & House System
Guidance Support
Summer & March Camps
After-School Program
PLUS Hands-on Activities & Family Fair
Free Parking
Laureate College Open House & Grand Opening Celebration provides the following fun and informative activities in the afternoon:
Date: Saturday, September 30
Time: 1:00 – 4:00 pm 
Event Schedule:
1:00 – 2:00 pm OPEN HOUSE for G9 to G12 candidates
2:00 – 2:30 pm OPENING CEREMONY
2:30 – 4:00 pm OUTDOOR EXHIBITIONS & ACTIVITIES