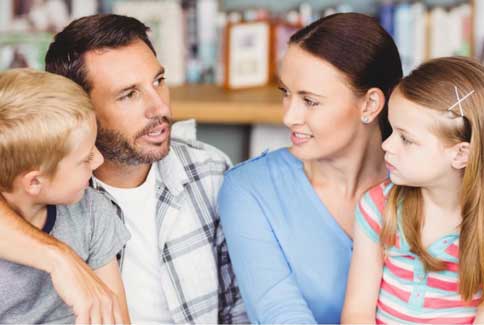 Communication is a topic we encounter every day without noticing it. Having a little chat with your parents, texting your friends, and even more, little interactions are led by communications. As children step into their adolescence, communication within the family becomes more and more difficult. A lot of the parents do not know how to communicate efficiently with their children at this very special time. And many teens often reject the idea of chatting with their parents. This would lead to a misunderstanding within the household and creates barriers between children and their parents.
So, how exactly do we communicate with our parents/children? Laureate College host a webinar this week talking about some of the key points to a successful conversation. Let's review a bit!
First of all, if you want to know how to have a good conversation, you need to know what is good communication in a family. We all know that the family is dynamic and ever-changing, so sharing becomes one of the points leading to a good conversation.
Be willing to open up to your family, share a thing or two that happened in the last few days, and exchange your thoughts on it. This kind of conversation not only generates a genuine conversation but also teaches your children some life lessons. Sometimes, you will be surprised that parents can also learn a lot from their kids! Just a little tip: try to put your phone away during a conversation and give each other enough attention. It is simple, but very hard to follow. In this way, you will build a stronger connection with your family members, and focus less on your friend's Instagram posts.
 
A strong collaborative family is formed by confident individuals working as a team. How to build up the confidence you may ask? Well, the answer is communication! Take turns between listening and speaking, give everyone a chance to speak up, express their feelings, and value the opinions of others. Every human being is a noble being that has qualities within them to build a family and community. Acknowledge everyone will have choices to make, and respect their decisions. Value growth and development lead to a wide judgement and prosperity.
 
Arguments are unavoidable within the household. When it comes to this type of situation, stop the desire to blame others. Adolescents are building an inner architecture that will be their emotional framework. Be patient when adolescents are questioning the parental structures they have been taught. When the argument is escalating, stop and take a time out. It is better not to continue the conversation if you are going to say potentially harmful things. Give each other more space and come back to the issue later.
 
Have you learned a bit from this webinar's sum-up? Join us in our next webinar which is on April 26th at 8:30 AM EST! The link to the webinar can be found in the 'Upcoming Event' on the homepage!